Tuesday, March 14, 2017
SU's MASMI Becomes Full Member of National University Sales Center Alliance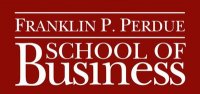 SALISBURY, MD---The Mid-Atlantic Sales and Marketing Institute at Salisbury University (MASMI) recently became the 24th member of the national University Sales Center Alliance (USCA).

MASMI joined the alliance as an associate member in 2016. Its full membership was announced during the SU program's annual "Meet the Sponsors" job and internship fair.

"The USCA represents a select body of universities meeting quality criteria within their sales programs," said Dr. Amit Poddar, MASMI director and chair of SU's Management and Marketing Department. "We are proud to become a full member of this prestigious organization."

Dr. Christy Weer, dean of SU's Franklin P. Perdue School of Business, credited Poddar with creating and nurturing the program.

"He built this from the ground up," she told the audience of students, area business leaders and University administrators attending the "Meet the Sponsors" event. "Look how far we have come in just two years."

Poddar noted that when the program began in 2015, it had 14 enrolled students and no dedicated classes or faculty. Today, some 75 students are enrolled in the MASMI's Sales Program, which boasts two dedicated faculty members and six classes in three sections. SU also has added a sales minor for business and marketing students since the institute's creation.

Established in 2002, the USCA advocates for the continued advancement of the sales profession through teaching, research and outreach, such as competitions and career fairs.



Founded through the Perdue School, the MASMI provides an academic program for students interested in sales, with financial and mentoring support from regional and national sales leaders.

For more information call 410-543-6030 or visit the SU website at www.salisbury.edu.