Wednesday, July 12, 2017
First Bells Installed in SU's New Brown and Church Carillon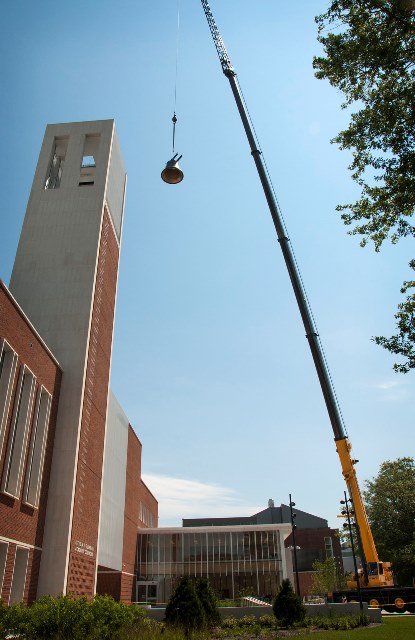 SALISBURY, MD---The first bells in Salisbury University's 48-bell Brown and Church Carillon were hung today at the Patricia R. Guerrieri Academic Commons.

The carillon was funded through a $2.4 million gift from Delaware entrepreneur William Church in memory of his long-time partner, Samuel Brown. Both have been supporters of SU for many years. The two largest bells, weighing approximately 2.5 tons each, are inscribed with their names.

These bells, the first to be hung, were made by London's Whitechapel Bell Foundry, which also cast the original Liberty Bell. The company closed earlier this year after more than five centuries in business.

The remaining 46 bells were cast by Meeks, Watson & Co. in Georgetown, OH, the largest producer of carillon bells in the nation. Installation is expected to take up to three weeks. The carillon will debut with a live concert this fall.

According to the Guild of Carillonneurs in North America, a traditional carillon consists of at least two octaves of bells that can be played musically with a touch-sensitive keyboard. (Smaller groupings of bells are referred to as "peals" or "chimes," depending on number and ringing method.)

By this definition, the Brown and Church Carillon, with four octaves, is the first traditional carillon on the Eastern Shore — and one of fewer than 200 in the U.S.

For more information call 410-543-6030 or visit the SU website at www.salisbury.edu.
By the Numbers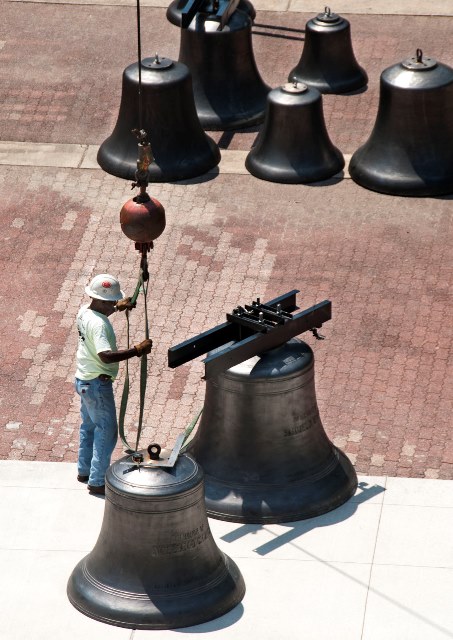 4 – Total number of tiers in the bell frame

4 – Total number of octaves represented by the carillon

7 1/8 inches – Diameter of smallest bell

16.25 pounds – Weight of smallest bell

30 inches – Approximate length of each wire from bell to console

60 inches – Diameter of largest bell

147 feet – Height of bell tower, the tallest structure on campus and believed to be the tallest enclosed structure in Wicomico County

5 tons – Combined weight of the two largest bells

27,655 pounds (nearly 14 tons) – Total weight of bells