Tuesday, July 11, 2017
SU Alumna Roman Publishes on Procedure for Rapid UTI Diagnosis in Peer-Reviewed Journal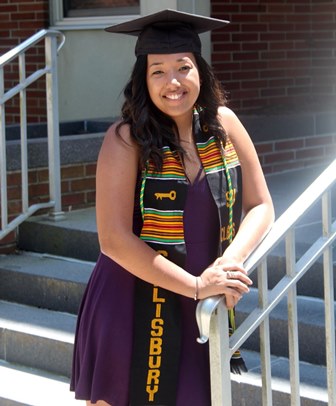 SALISBURY, MD---Kiana Roman, a 2016 graduate of Salisbury University, recently had a paper published in the American Society for Microbiology's peer-reviewed Journal of Clinical Microbiology.

The article, co-authored with several colleagues, provided an evaluation of light-scatter technology, paired with matrix-assisted laser desorption/ionization-time of flight (MALDI-TOF) mass spectrometry, for rapid diagnosis of urinary tract infections, "one of the most common reasons for healthcare visits," the researchers noted.

Ordinarily, it takes at least 24 hours for the microbiology lab to culture urine, so patients must either wait to get the appropriate antibiotic or the clinician has to take an educated guess and prescribe an antibiotic without knowing if an infection actually exists or what organism is causing it. The ability to rapidly diagnose urinary tract infections with this technique will improve patient care and limit the unnecessary use of antibiotics and the development of resistant organisms, according to the article.

After earning her B.S. in medical laboratory science from SU and her medical laboratory scientist credential from the American Society of Clinical Pathology, Roman, of Elkton, MD, accepted a medical technologist position with the Children's Hospital of Philadelphia's infectious disease laboratory.

While at SU, she also served as a laboratory information coordinator for Peninsula Regional Medical Center and was active in SU's chapter of Scientista, an organization promoting the entry of women into science, technology, engineering and mathematics (STEM) fields of study.

This fall, she begins her pursuit of an M.S. in infectious disease at Drexel University.



For more information call 410-543-6030 or visit the SU website at www.salisbury.edu.