Wednesday, January 10, 2018
Peacherine Ragtime Society Orchestra Returns to SU February 3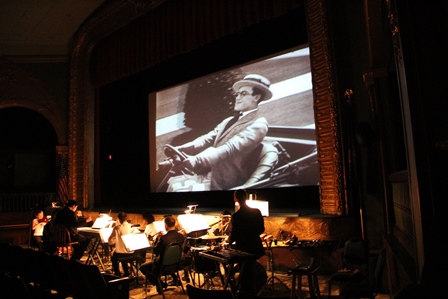 SALISBURY, MD---Forget Dolby Surround, THX and even Vitaphone. At Salisbury University, movie music is going live — again!

The Peacherine Ragtime Society Orchestra returns to Holloway Hall Auditorium to accompany a screening of the Harold Lloyd classic silent comedy Safety Last! 7 p.m. Saturday, February 3.

The orchestra performs the film's original score live as the movie plays on the big screen. A pre-performance talk with conductor Andrew Greene begins at 6:30 p.m.

Released in 1923, Safety Last! produced one of the most iconic images of the silent film era: Lloyd dangling from the hands of a large clock atop a skyscraper.

The movie follows Lloyd as he stretches the truth about his job at a big-city department store to impress his long-distance girlfriend, culminating in a $1,000 promotional stunt that finds him climbing to the top of the 12-story building the business occupies.

The film is shown in partnership with Harold Lloyd Entertainment, Inc.

The Peacherine Ragtime Society Orchestra was founded in 2010 by University of Maryland, College Park, student Andrew Greene, who serves as its director and conductor. Hailed by The Washington Post as "the premier American ragtime ensemble," it recreates the syncopated stylings of a bygone era, including ragtime, theatre and dance music.

Sponsored by the Cultural Affairs Office, admission is free and the public is invited. For more information call 410-543-6271 or visit the SU website at www.salisbury.edu.