Friday, May 25, 2018
Dudley-Eshbach Receives Spirit of SU Award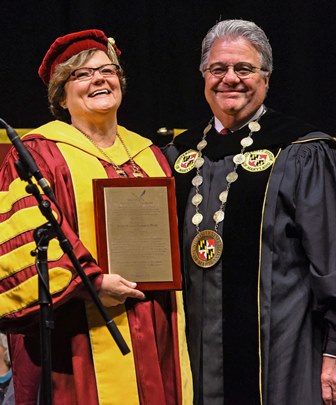 SALISBURY, MD---Shortly before concluding her final Commencement ceremony as Salisbury University's President, Dr. Janet Dudley-Eshbach received a surprise: the Spirit of Salisbury University Award.
Presented to select individuals who have made continuous and notable contributions to SU's mission, quality and character, the award has been given only once before, to Dr. Norman Crawford, who served as SU's president from 1970-1980.
Dudley-Eshbach's 18-year tenure at SU has been transformative. When she steps down on June 30 as the longest-serving woman president in the University System of Maryland, she will leave a legacy expected to benefit SU students and the community for generations to come.
"Janet, I want to thank you for the tremendous leadership you have provided to this wonderful institution … and I congratulate you on a legacy that will become a lasting part of the Salisbury University story," said Dr. Robert Caret, chancellor of the University System of Maryland, who helped present the award.
"Although President Dudley-Eshbach is recognized for the new buildings, facilities and academic programs developed during her tenure, equally important is the strong sense of community she has fostered among students, faculty and staff and with the Eastern Shore region and State of Maryland," added Dr. Karen Olmstead, SU's interim provost and senior vice president of academic affairs.
The Spirit of Salisbury University Award honors Dudley-Eshbach for accomplishments including academic excellence, a stellar student profile, an updated and expanded campus, award-winning Division III athletics and a philanthropic legacy.
"You are, indeed, the No. 1 Sea Gull," the award reads.
During her time at SU, Dudley-Eshbach has led the University to growth in numerous areas, including student population, physical size and private gifts. Some 30 new buildings opened during her tenure include Conway Hall, Perdue Hall, Sea Gull Stadium and the award-winning Patricia R. Guerrieri Academic Commons, reshaping the campus skyline. New outdoor athletics facilities are said to be among the best in NCAA Division III.
Dudley-Eshbach also made strides in increasing diversity on campus (from 11 percent of the student population in 2000 to 25 percent today), added nearly 30 percent more academic programs (including SU's first two doctoral degrees) and led growth in academic achievement, with more student Fulbrights and other nationally competitive fellowships than ever before in SU history.
Town-gown relations have improved under her leadership, and initiatives such as the Center for International Education and English Language Institute have increased the number of SU students studying abroad, as well as the number of international students studying at SU.
In the past 18 years, prominent guides including U.S. News & World Report, The Princeton Review and others have honored Salisbury as one of the nation's best educational values and most sustainable campuses, among other accolades.
An engaging speaker known for her humor, Dudley-Eshbach also has been a strong advocate for the University at the local, state, national and international levels.
As she left the stage during her final Commencement exercises, she also closed one more chapter in her legacy: More than half of the University's 50,000 alumni have graduated during her tenure.
For more information call 410-543-6030 or visit the SU website at www.salisbury.edu.