Friday, June 1, 2018
SU Hosts Screening of 'Defiant Requiem' on Monday, June 25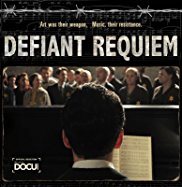 SALISBURY, MD---Salisbury University hosts a screening of the Emmy-nominated PBS documentary Defiant Requiem 6:30 p.m. Monday, June 25, in Fulton Hall Room 111.
A discussion with conductor Murry Sidlin, president and creative director of The Defiant Requiem Foundation, follows.
According to the foundation, "Defiant Requiem is a feature-length documentary film which illuminates the extraordinary, untold story of the brave acts of resistance by the Jewish prisoners at Terezín, a prison to thousands of scholars, performers, musicians, actors, writers and philosophers from Central Europe. Overwhelmingly Jewish, these prisoners turned to the arts and humanities as both balm and sword.
"Defiant Requiem highlights a dramatic example of intellectual and artistic courage: the remarkable story of Rafael Schächter, a brilliant young and passionate Czech opera-choral conductor who was arrested and sent to Terezín in 1941. He demonstrated moral leadership under the most brutal circumstance, determined to sustain courage and hope for his fellow prisoners by enriching their souls through great music. His most extraordinary act was to recruit 150 prisoners and teach them the Verdi Requiem in a dank cellar using a smuggled score, over multiple rehearsals, after grueling days of forced labor.
"This is a film about how a rare form of courage, hope, and survival sparked an entirely unique method of fighting Nazi oppression, enabling the prisoners to maintain their dignity and humanity while battling the worst of mankind with the best of mankind. The Nazi legacy of brutality is well established, but the Terezín legacy is virtually unknown and is told dramatically in Defiant Requiem."
Abroad, the film has been shown on television in England, France and Brazil. In 2014, it earned Emmy nominations for Best Writing and Best Feature-Length Documentary.
Sponsored by the Samuel W. and Marilyn C. Seidel School of Education and Professional Studies, Olga Lengyel Institute for Holocaust Education and Human Rights, and Defiant Requiem Foundation, admission is free and the public is invited.
For more information call 410-677-5490 or visit the SU website.