Monday, May 7, 2018
2018 President's Diversity Award Recipients Announced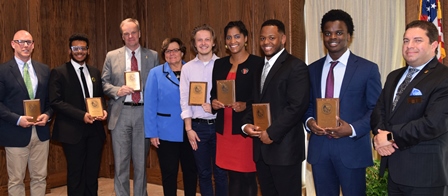 SALISBURY, MD---Salisbury University recently honored eight members of the campus community with its 2018 President's Diversity Awards.
They included undergraduate students Donovan Mack, Benjamin Lenox and Abiodun Adeoye; graduate student Rahsaan Ellis; Instructional Design and Delivery instructional designer Safaa Said (professional staff award); Charles R. and Martha N. dean of the Fulton School of Liberal Arts Dr. Maarten Pereboom (administrator award); and Drs. April Logan of the English Department and Dean Ravizza of the Health and Sport Sciences Department (faculty awards).
Mack, a senior communication arts major from Silver Spring, MD, chairs SU's Diversity and Inclusion Consortium Committee. He also was selected as a student delegate to the Bryant Educational Leadership Group African American Leadership Experiences and has served as a mentor for SU's Powerful Connections Program. The Student Government Association director of diversity and inclusion also has served on the "SU Is US" committee and is a member of the Student NAACP and Multicultural Alliance, among other campus clubs and organizations. "He seeks to uplift others and has a true desire to better SU," said SGA President Cerrah Sherman, who, with Vaughn White, multicultural student services director, nominated Mack.
Lenox, a junior international relations and political science major from Odenton, MD, "has been working tirelessly to improve the SU campus environment for LGBTQIA+ folks throughout his time here," said student Marie Hils, who, with student Savrae Garnett, nominated him for the award. The SGA vice president has advocated for an LGBTQIA+ resource center and helped facilitate increasing levels of student collaboration, connections and peer support, she added. Lennox is an SU Honors College student and Harry S. Truman Scholarship finalist. He serves on SU's Admissions Advisory Board, Diversity and Inclusion Consortium Committee and Sexual Health Advocacy Group executive board.
Adeyoe, a sophomore history major from Hyattsville, MD, was inspired by last August's racial upheaval in Charlottesville, VA, to create a world café-style event at SU to promote community understanding and discussion. Working with the University's Institute for Public Affairs and Civic Engagement (PACE), he attracted over 100 members of the SU and greater communities. "He truly believes that individuals can and should work for the betterment of their community through the humanities and, in doing so, can positively impact the world," said his nominators, Drs. Sandy Pope and Sarah Surak, PACE co-directors, and administrative coordinator Abigail Horton. Adeyoe also is a PACE Presidential Citizen Scholar and SU Honors College member.
Pursuing his M.B.A., Ellis, of Capitol Heights, MD, led a team of graduate assistants and student workers from SU's Business, Economic and Community Outreach Network (BEACON) in developing a health literacy curriculum for limited-English proficiency populations on Maryland's Lower Eastern Shore. The program "will positively impact countless residents, as well as our students who will serve as the trainers for this initiative over the years," said his nominator, Dr. Memo Diriker, BEACON director. Ellis also is active in BEACON's Bienvenidos a Delmarva program.
Said mentors members of SU's Muslim Students Association, promoting a safe environment and helping to bridge gaps in understanding awareness, according to her nominator, instructional technologist Haley Cristea. Currently, she is working with students to promote awareness of the washing rituals Muslims perform before praying — sometimes performed in public bathrooms on campus — by creating restroom signage. "Students felt comfortable coming to Safaa to express their feelings and concerns, and they were confident that she would help them resolve concerns related to their matter," said Cristea. "I think that alone speaks volumes as to Safaa's impact on supporting the diverse student population on campus."
Pereboom was nominated for supporting a wide variety of cultural, humanities and arts programs on campus through his roles as dean of the Fulton School and a Maryland Humanities Council board member. "In his nearly 10 years as dean, Dr. Pereboom has consistently focused on expanding curriculum and programming to embrace totality of the human experience and diversity in its broadest sense," said his nominator, Dr. Karen Olmstead, SU interim provost and senior vice president of academic affairs.
Recent efforts have included beginning an initiative for SU's Fulton Public Humanities program to ensure exploration of the humanities through monthly themes including African American, women's and native American history, as well as Hispanic heritage. He has supported the study of foreign languages and cultures, as well as the hiring of faculty from traditionally underrepresented backgrounds and those from other countries. In 2017, students representing minority populations accounted for nearly 30 percent of the Fulton school's graduates.
As part of the Fulton Public Humanities Committee, Logan was the driving force behind many of this year's African American History Month events, according to her nominators, including Pereboom and Drs. Cristina Cammarano of the Philosophy Department, Chrys Egan of the Communication Arts Department and Loren Marquez of the English Department. In addition, Logan serves as coordinator for the English Department's ethnic and global literatures minor, as well as the "Social Justice, Equity and Teaching Transformation at SU" Faculty Learning Community liaison with the University's Multicultural Student Services Office and a member of the Powerful Connections Advisory Board.
In the classroom, Logan has developed and taught courses that center on the marginalized voices of historically oppressed identities in literature. She also has coordinated cultural programming, such as a performance by Misty Copeland, first African American female principal dancer for the American Ballet Theatre, and is a regular participant in panel discussions and events organized by SU organizations including the Student NAACP and African Student Union. "Dr. Logan's contribution to advancing the cause of diversity in the University as a whole is outstanding, as she branches outside her immediate area of specialization to widen the reach of our public initiatives and invite a conversation about a normally neglected part of the American experience," said Cammarano.
Ravizza lives by the mantra "You cannot have a commitment to diversity without a commitment to disability," according to his nominator, Dr. James Forte of the Social Work Department. Through his classes, Ravizza has highlighted the importance of including individuals with disabilities in physical education, recreation and sports. He leads SU's adapted physical education practicum laboratory, in partnership with Wicomico County Public Schools, to provide children with a wide range of intellectual, physical and behavioral disabilities. With the school system, he also partners on an award-winning Young Athletes program to promote sports to children with and without disabilities.
He also has worked with children internationally to promote inclusion and rehabilitation through sports and has begun a collaboration with the Migration Action Network's local office, which has sought to use his social inclusion framework to provide area refugee children with sports experiences to help increase social inclusion. Earlier this year, he became the first member of the SU community to earn a Rotary International Peace Fellowship. Through that experience, he will investigate the role of sports and physical activity as part of emergency education for refugee children at the Rotary International Peace Center in Thailand this summer.
Each President's Diversity Award winner received a plaque and a $500 stipend.
SU President Janet Dudley-Eshbach presented the awards during SU's 23rd annual Multicultural Festival Week celebration. At the ceremony, she discussed outcomes of the many efforts made to increase diversity on campus during her 18-year tenure. In that time, minority enrollment has increased by some 224 percent (695 in fall 2000 to 2,254 in fall 2017), and enrollment of non-immigrant international students has risen by some 192 percent, with 60 foreign countries currently represented.
In the past decade, SU also has seen a 71 percent growth in undergraduate minority students and a 99 percent growth in graduate minority students. Minority and non-resident students currently make up nearly 27 percent of SU's student population.
During that time, the University also has seen a 50 percent growth in minority tenured or tenure-track faculty and a 13 percent increase in minority staff.
"As important as recruiting diverse students, faculty and staff are our continuous efforts to foster an environment of respect, connection and involvement on our campus," Dudley-Eshbach said.
Priorities for the upcoming year include development of a campus climate study to identify areas and issues in need of attention, and implementation of intersectional space in Blackwell Hall to provide better opportunities and resources for those from historically marginalized backgrounds to foster and cultivate their development as students while finding community, she said.
The ceremony marked the 12th year the awards have been bestowed.
For more information call 410-543-6030 or visit the SU website at www.salisbury.edu.