Thursday, September 14, 2017
Endowment Gift Announced for Tom and Nancy Jones Undergraduate Research Fund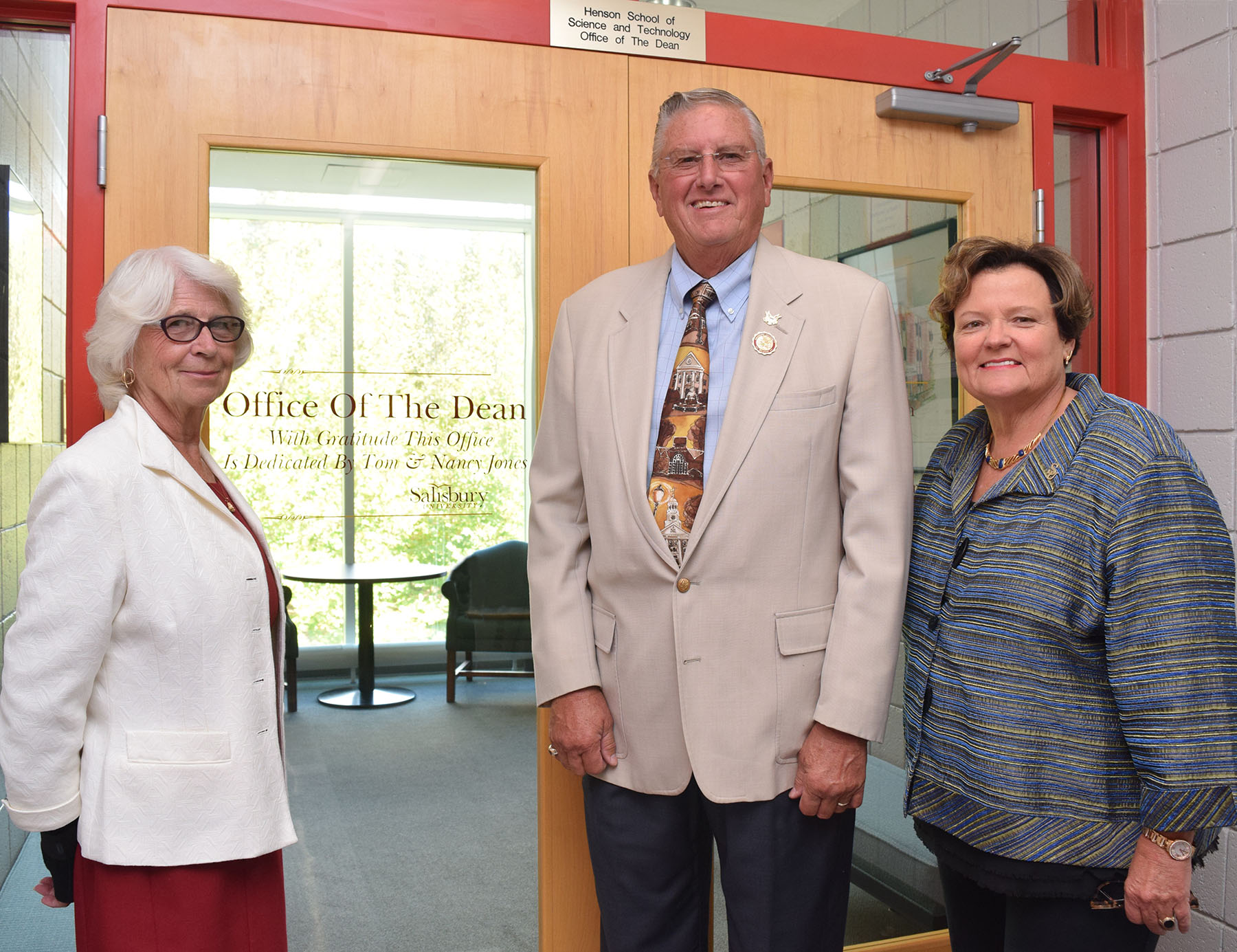 SALISBURY, MD---Dr. Tom Jones is no stranger to Salisbury University.
The former biological sciences professor, dean and provost has helped nurture students in the classroom and beyond during his three-plus decades at SU.
Though retired since 2014, he and his wife, Anne-Marie "Nancy" Jones, former facilities manager at the University of Maryland Center for Environmental Science (UMCES), will continue that impact on the campus with the establishment of the Tom and Nancy Jones Undergraduate Research Fund.
"Tom and Nancy have long been a vital part of the Salisbury University community, and this gift reaffirms their commitment to the Henson School and its students," said SU President Janet Dudley-Eshbach. "Tom and I have had many conversations over the years about the importance of science, technology, engineering and mathematics, or STEM, education, and this generous gift will provide even more opportunities for students in those fields. Undergraduate research is a hallmark of an SU education, and I am grateful to the Joneses for supporting these efforts."
Their $50,000 endowment gift will provide financial resources for undergraduate students to conduct research and present their work in the biological, environmental and marine sciences.
In recognition of this commitment, the Dean's Suite in Henson Science Hall will be named in their honor. Tom served as dean of SU's Richard A. Henson School of Science and Technology from 1997-2006 and helped oversee the design and construction of the building, then one of the largest science facilities of its kind in Maryland.
He previously chaired SU's Biological Sciences Department from 1984-1996. He became SU's provost and vice president of academic affairs in 2006, leaving to become the University's STEM coordinator in 2009. In that role, he was the principal investigator for a nearly $1 million National Science Foundation grant to provide increased research opportunities at SU — one that established programs that continue seven years after his retirement.
"It is with much gratitude to Salisbury University that Nancy and I provide this endowment to help promote undergraduate research," he said. "I deeply appreciate the opportunities that SU has afforded me to help develop new generations of science educated professionals."
Jones earned his B.S. degree in botany from the University of Maryland, College Park, in 1968. Following nearly four years in the U.S. Army and a tour of duty in Vietnam, he returned to College Park and earned his M.S. and Ph.D. from the university's Horn Point Environmental Laboratory in 1977. Joining SU's faculty that year, he specialized in estuarine ecology.
In addition to his classroom work at SU, he believed in hands-on learning, taking students on trips aboard research vessels throughout the Chesapeake Bay. While doing that he maintained an adjunct faculty position for many years at Horn Point. He also served as president of the Atlantic Estuarine Research Society from 1990-1992, often bringing experts from that organization to campus.
Tom earned SU's Distinguished Faculty Award in 1991 and was named the Maryland Association for Higher Education Educator of the Year in 1997. Off campus, he received a U.S. Department of Defense Joint Service Achievement Medal for his service in Operation Desert Storm, also in 1991. He maintained an adjunct faculty position for many years at Horn Point.
He and Nancy stay involved in the SU community, visiting campus often and cheering on the University's athletics teams. Both of their children, Brennan Jones and Kerrie Bunting, are SU alumni.
For more information call 410-543-6030 or visit the SU website at www.salisbury.edu.