Thursday, March 16, 2017
Gratton Continues SU Biology Seminar Series April 13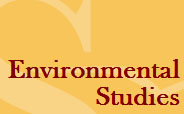 SALISBURY, MD---Salisbury University's spring Environmental Studies Colloquium Series culminates with the presentation "Landscape Simplification and Pollinators: Can We Design Agricultural Systems and Maintain Ecosystem Services?" 5:30 p.m. Wednesday, April 12, in Perdue Hall's Bennett Family Auditorium.

Dr. Claudio Gratton, professor of entomology at the University of Wisconsin and principal of its Gratton Lab for the Landscape Ecology of Insects, discusses how increasing demands for food and fuel have led to the "simplification" of the agricultural landscape. Through this trend, natural and semi-natural areas have been removed or reduced, while monocultures of annual crops have increased.

Gratton also delivers the presentation "Insect Carcasses Link Aquatic and Terrestrial Ecosystems: Lessons from the Subarctic" as part of SU's Biology Seminar Series 4 p.m. Thursday, April 13, in Henson Science Hall Room 213.

During that discussion, he speaks on his lab's experimental studies at the margins of lakes and land in Iceland that show insects represent a relatively large contribution to terrestrial ecosystem influxes, despite their small size. These insects also can affect food web interactions on land after the composition of plant and animal communities, the studies showed.

A cookies-and-coffee reception precedes the lecture at 3:30 p.m. in Henson Science Hall Room 213.

[related links] Sponsored by the Environmental Studies Department, admission is free and the public is invited. For more information call 410-543-8105 or visit the SU website at www.salisbury.edu.