Wednesday, September 6, 2017
Maier Earns Distinguished Faculty Award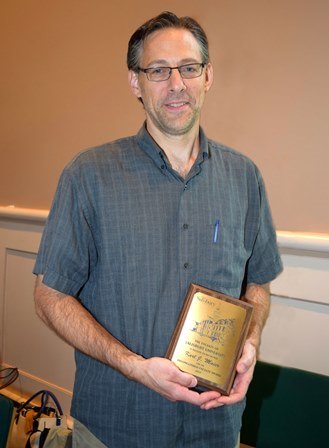 SALISBURY, MD---"An excellent teacher and mentor; a first-rate, engaged and prolific citizen-scholar; and admired service leader respected by colleagues across the campus … someone who exemplifies the best we have to offer students" — this is how Dr. Karl Maier from the Department of Psychology was described as he was presented with Salisbury University's 2017 Distinguished Faculty Award.
The prestigious tribute is given by faculty to faculty. Maier earned praise from his colleagues for, among other things, his focus on "interrelated issues [that] represent critical problems of our time, and ultimately may have the greatest impacts on well-being for our students and society as a whole," according to his nominators.
In the past 5 years, Maier has published six articles in peer-reviewed journals. With an interdisciplinary background in behavioral medicine and clinical health psychology, Maier's research spans issues of stress, health and environment – and their interconnections – in a way that relates health behavior, stress and mental health to problems ranging from pandemic disease to climate change.
Most recently, with a colleague at the University of Minnesota Medical School, Maier addressed these interconnections as the lead author on a paper advancing a biopsychosocial ecological model of the human microbiome, published in the cutting-edge clinical research journal Psychosomatic Medicine. He believes that paper holds promise to chart new directions in medicine for the way it outlines how psychological, social and bio-environmental factors may interact with the microbiomes of both people and the environment, which increasingly are believed to play a vital role in human and planetary health.
Maier's work with students embodies SU's overall dedication to teaching and undergraduate research, having mentored more than a dozen student research projects which have been presented at conferences on and off campus, and published in scholarly journals.
A past recipient of the Charles R. and Martha N. Fulton School of Liberal Arts' Excellence in Teaching Award, he has brought his research into the classroom, leading the development of what he said may be the first course anywhere on the psychology of global climate change, and co-developing a series of three Interdisciplinary Studies courses focused on sustainability.
Maier has also organized and moderated Crosstalk, a student-led lunchtime discussion series which addresses sustainability issues by engaging students and faculty from all disciplines across campus, now in its fourth year.
Outside the classroom, Maier chaired the Fulton Sustainability Committee for five years. During that time, he led efforts to assess and report on faculty views about integrating climate change into the University curriculum, and coordinated sustainability tracks for SU's teaching and learning conferences. He also worked to establish in 2014 the University Academic Sustainability Committee — a large, interdisciplinary group dedicated to supporting the integration of sustainability into campus life and academics.
Maier also has earned three research grants in the past several years. These include a $5,000 National Science Foundation-supported grant from Maryland and Delaware Climate Change Education Assessment and Research (MADE CLEAR) to support climate change curriculum development in higher education through surveying the students and faculty of University System of Maryland institutions.
Celebrating its 30th year in 2017, the Distinguished Faculty Award has been bestowed upon 68 faculty from 22 disciplines, representing all four of SU's academic schools. Maier's name will be added to an honor roll listing all recipients since the award was established.
For more information call 410-543-6030 or visit the SU website at www.salisbury.edu.