Thursday, August 24, 2017
Mariachi Band Performs at SU's Annual Hispanic Heritage Dinner Sept. 20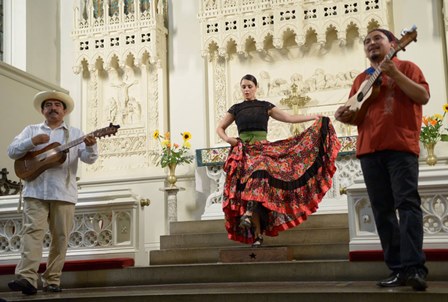 SALISBURY, MD---Humberto Guzman y su Mariachi Los Mensajeros (Humberto Guzman and the Southern Messengers of Mariachi) perform during Salisbury University's annual Hispanic Heritage Dinner on Wednesday, September 20.

The meal is served from 4:30-7:30 p.m. in the Bistro of the Commons. The band plays from 5-7 p.m. The event is part of SU Dining Services' International Dinner Series.

The menu includes tamal de cerdo tirado (pulled pork tamales), churrasco de flank steak (Argentina-style flank steak), chimichurri sauce, portos grandos (Chilean bean stew), Salvadoran yucca frita, Honduran arroz con pollo (chicken and rice), sopapillas, tres leches cake and mock-a-rita fruit punch.

Cost is $13.50, $8.15 for children 5 and under.

Sponsored by University Dining Services and the Cultural Affairs Office, the dinner is part of SU's Hispanic Heritage Month Festival.

At 7 p.m., the award-winning Villalobos Brothers perform a related concert in Holloway Hall Auditorium. Admission to that performance is free and the public is invited.

For more information call 410-543-6271 or visit the SU website at www.salisbury.edu.