Monday, April 9, 2018
Mayor Honors SU AmeriCorps Programs on National Service Recognition Day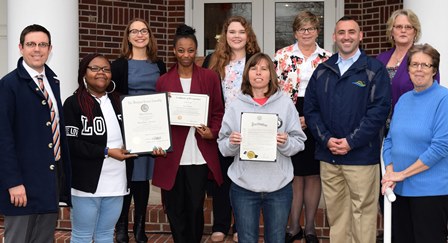 SALISBURY, MD---Salisbury Mayor Jake Day honored Salisbury University's AmeriCorps programs and others in the city, recognizing their members' efforts, proclaiming April 3 as National Service Recognition Day in the city.

The mayor issued the proclamation during a presentation at SU's Scarborough Leadership Center. He also presented a citation from the Maryland General Assembly, honoring SU's ShoreCorps program for its contributions to the community.
In addition, he issued a certificate of recognition from the city to ShoreCorps member Amber Green for her work with the city's Youth Development Advisory Committee. The event also included a proclamation of April 3 as National Service Recognition Day from the Talbot County Council.

SU is home to two AmeriCorps programs: ShoreCorps, which serves vulnerable populations on the Eastern Shore, and HOPECorps (Heroin and Opioid Prevention and Education), which provides health education programming to help curb the national opioid addiction epidemic at the local level.

The city of Salisbury also is home to a chapter of Senior Corps RSVP, led by MAC, Inc. RSVP is one of the nation's largest volunteer networks for people 55 and older. ShoreCorps, HOPECorps and RSVP currently serve a combined 42 sites on Maryland's Eastern Shore.

Led by the Corporation for National and Community Service, National League of Cities, National Association of Counties, and Cities of Service, National Service Recognition Day encourages local leaders to honor the efforts of AmeriCorps members throughout the U.S.

Pictured, from left, are Dr. Sandy Pope, ShoreCorps project director and co-director of SU's Institute for Public Affairs and Civic Engagement (PACE); Carlyse Matthews, ShoreCorps member with Salisbury Urban Ministries; Dr. Sarah Surak, PACE co-director; Green; Anie Chambers, ShoreCorps administrative assistant; Judith McClure, ShoreCorps member with ShoreUp; Dr. Karen Olmstead, SU interim provost and senior vice president of academic affairs; Day; Debbie Donoway, director of Salisbury Urban Ministries; and Valerie Wagner, RSVP project director at MAC, Inc.

For more information call 410-543-6030 or visit the SU website at www.salisbury.edu.