Thursday, September 28, 2017
Princeton Review Names SU Among Nation's 'Greenest' Colleges for Eighth Year
SALIS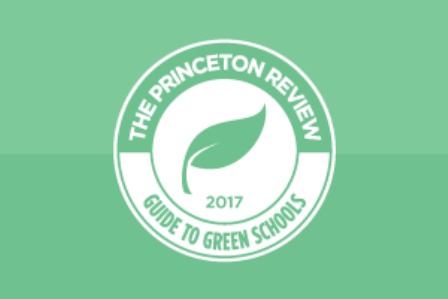 BURY, MD---For the eighth consecutive year, The Princeton Review, in partnership with the U.S. Green Building Council (USGBC), has named Salisbury University one of the nation's most environmentally responsible colleges.
The University is featured in the Guide to 375 Green Colleges, which highlights impressive environmental and sustainability programs at campuses throughout the United States and select institutions in Canada.
The guide is based on a survey of hundreds of colleges nationwide. Questions explore institutional commitment to areas including LEED building certifications, environmental studies programs, alternative transportation, recycling and conservation programs, and more.
The 375 colleges in the guide were selected based on "green rating" scores from summer online profiles and annual guidebooks.
"From the 'green roof' plant-based rainwater filtration system atop the Patricia R. Guerrieri Academic Commons to our Green Fund, which allows the University to put into practice student-submitted ideas such as solar-canopy picnic tables, Salisbury University has a long — and growing — history of sustainable efforts," said Dr. Karen Olmstead, interim provost and vice president of student affairs. "While it is gratifying that our initiatives are being recognized national by The Princeton Review, we don't promote sustainability for the recognition; we promote it because it's the right thing to do."
The University's most recent efforts include a solar parking canopy, which opened at the beginning of this semester, producing enough electricity annually to power three campus residence halls.
In 2008, SU's Conway Hall (formerly the Teacher Education and Technology Center) became the first LEED-certified new construction project on the Eastern Shore, earning Silver status. Since then, ten other new or renovated campus buildings have earned LEED Gold or Silver certification, including Perdue Hall, Sea Gull Square, and Pocomoke, Wicomico, Manokin, Sea Gull Stadium, Guerrieri Academic Commons, Nanticoke, Chester and Choptank residence halls.
SU is home to what are believed to have been the Eastern Shore's first public electric vehicle charging stations. Other alternative transportation initiatives include a bicycle-friendly campus, complete with "Fixit" stations and bike storage buildings for residents, and a bike lane that leads from the University to downtown Salisbury.
Offering an environmental studies major and minor, the Environmental Studies Department features award-winning faculty and staff, including renowned environmentalist and author Tom Horton. SU also has several environmentally related academic programs in the geo-, biological and physical sciences.
Other initiatives include a bike share program, a trayless dining hall and a Dining Services initiative to defer food waste from local landfills. The partnership has helped SU realize a total campus recycling rate of more than 50 percent since 2013.
To download the Guide to 375 Green Colleges visit www.princetonreview.com/college-rankings/green-guide. For more information call 410-543-6030 or visit www.salisbury.edu.