Wednesday, May 30, 2018
SU Alumnus Swinney Nominated for Golden Trailer Award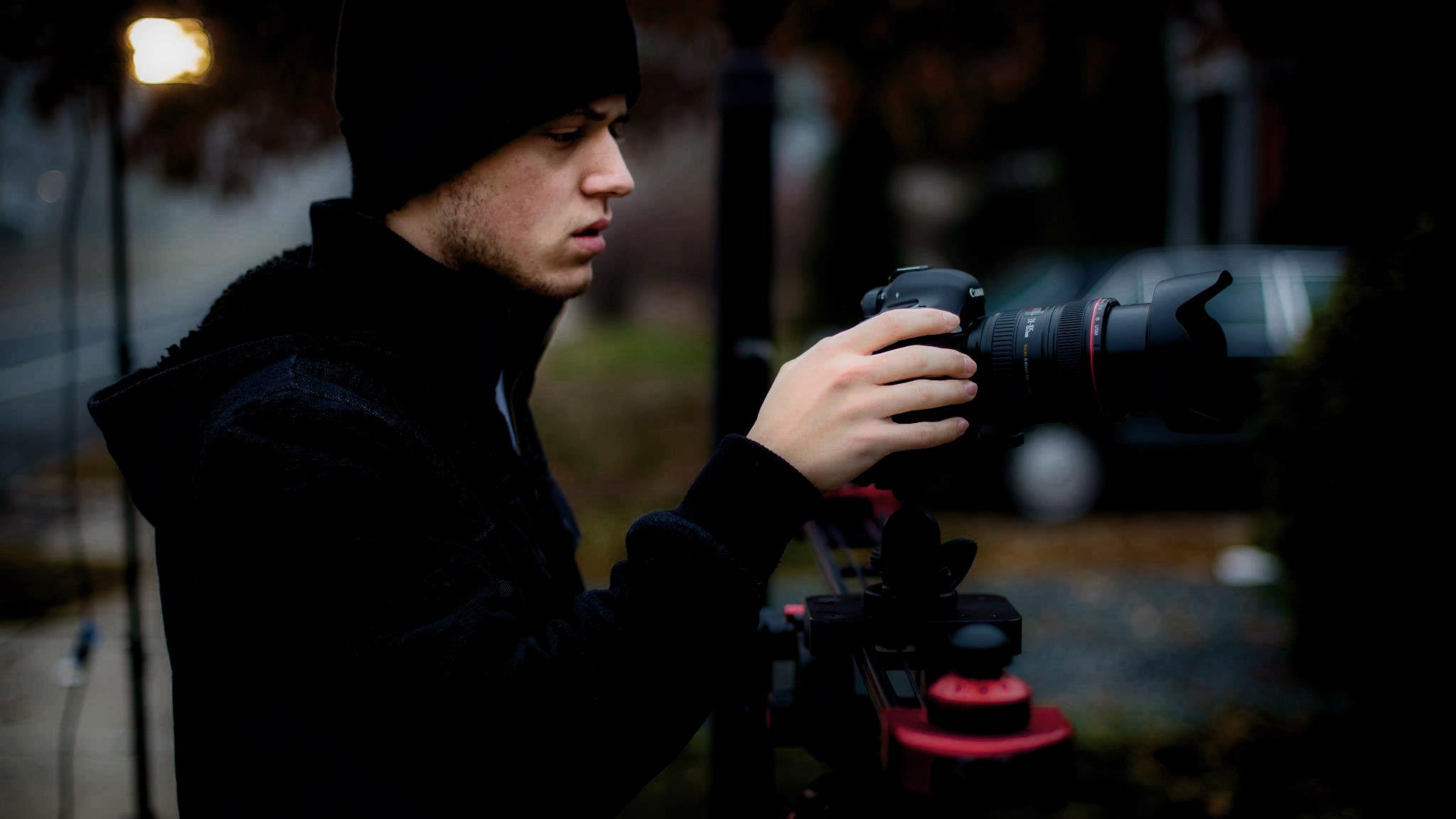 SALISBURY, MD---Salisbury University alumnus Jake Swinney ('13 B.A. communication arts) didn't set out to make film trailers and previews.
But when he accepted a temporary job doing just that, he assured his new boss on the first day that he would add a prize to the production company's coveted trophy room.
Swinney claims he was only joking, but his prediction is closer to coming true than he realized at the time. The Centreville, MD, native's work recently was nominated for a Golden Trailer Award, the equivalent of the Academy Awards for movie trailers.
Often, the "overnight Hollywood success story" actually took years to materialize, but in Swinney's case, his foray into working with major Hollywood films really did happen overnight. A video essayist by trade (more on that later), he found an online want ad from Santa Monica, CA-based trailer production house Mark Woollen & Associates. On a whim, he sent in his resume and some sample clips.
The news from California was not encouraging. Shortly thereafter, he received a message from the firm, thanking him for his submission, but letting him know the ad he responded to was outdated, and they currently had no openings. Adding insult: The company did not feel his video essay editing skills would transfer over into trailer editing.
Challenge accepted.
Before hearing those words, Swinney wasn't even sure he wanted the job. Now it was personal. He spent the night editing his own version of a trailer for one of his favorite films, the Academy Award-nominated 2012 drama The Master starring Joaquin Phoenix, Philip Seymour Hoffman and Amy Adams and, as they say in the film trades, submitted it for consideration.
The next day he got a call from Woollen's creative director, consisting primarily of two questions: "Did you really edit this together in one night?" and "How quickly can you move to California?"
The latter inquiry was more rhetorical since the company still had no open positions. That soon changed, however, when the firm's head editor left to take maternity leave. Another Hollywood cliché: his big break.
During his three months working for Woollen & Associates, Swinney assisted with a number of projects, including Golden Trailer Award nominees Mudbound (Warner Bros.), The Square (Magnolia Pictures) and The Florida Project (A24).
While proud of his work on those, he considers them a group effort. He alone, however, made the final cut for the teaser trailer promoting Our Souls at Night, a Netflix film starring Jane Fonda and Robert Redford. If it wins during the May 31 ceremony, only then will he consider himself a Golden Trailer Award winner.
His experience at Woollen changed his editing mindset, giving him more tools for his profession, he said, adding that it may not have been possible if not for the education he received at SU.
Trailer editing — condensing a feature film (90-150 minutes) into 150 seconds of cohesive, engaging storyline — takes technical and analytical skills, both of which Swinney said he learned through his film theory classes as a film studies minor. He still keeps in touch with his former professor, Dr. Frances Kendall.
"Salisbury gave me the best of both worlds," he said.
For now, Swinney is out of the trailer business. The fact is, he just doesn't have time for it. Once word of his Woollen credits spread in the industry, his video essay business took off.
"It started as something to do for fun," he said. Now it's a full-time job. I never saw it coming. I didn't know that could be a career path."
A video essay is a vocal script enhanced with images or sounds — often film clips in Swinney's case — and often posted online to sites such as Vimeo. Swinney's earliest essays chronicled some of his favorite movies and film trends, and were viewed mostly by family and friends.
Today, they cover topics such as "Hearing Tarantino" and "The Evolution of Batman in Cinema," and many have gone viral, with up to 2.3 million views. Others are done as work for hire. His biggest client is Fandor, a subscription streaming service he likens to "Netflix for cinephiles."
And Hollywood is taking notice. His work has been shared on Twitter by film luminaries such as directors Edgar Wright (Shaun of the Dead) and James Mangold (Girl, Interrupted).
Since taking off as a nationally known video essayist, Swinney has had to turn down other freelance work. But does that mean he'll never edit another trailer?
The answer, for now, is unclear. While video essaying is his first love, seeing his work on the big screen has a certain cache.
"It's nice to be sitting in the theatre when the trailers come on and saying, 'I made that,'" he said.
For more information call 410-543-6030 or visit the SU website at www.salisbury.edu.