Wednesday, April 19, 2017
SU Announces New Solar Parking Lot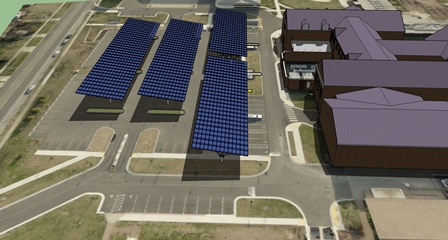 SALISBURY, MD---When it comes to electricity, Salisbury University soon will have it made in the shade — literally.

On the eve of Earth Day, the University announced plans for a new solar parking lot. Solar canopies covering SU's Parking Lot H, on College Avenue, will collect energy from the sun to help power adjacent academic buildings while providing shade for vehicles using the lot.

"The panels will generate approximately 765,000 kilowatt hours of electricity annually," said Wayne Shelton, SU director of campus sustainability and environmental safety. "Comparatively, that quantity represents 51 percent of the electricity used by Holloway Hall, 34 percent of the consumption in Fulton Hall or 32 percent of Conway Hall."

Standard Solar, the contractor installing the system, will own, operate and maintain it for 20 years, after which ownership will revert to SU. The project also will include an educational display listing performance data and related information.

"The environmental, educational and sustainability value of the project was the driving factor in the decision to install," Shelton said.

Another feature will be the installation of five electric vehicle charging (EVC) stations, more than doubling the number on campus. SU's inaugural EVC stations, unveiled with the opening of Perdue Hall in 2011, were the first to be publicly available on the Eastern Shore.

Construction of the solar parking lot is expected to take place this summer.

For more information call 410-543-6030 or visit the SU website at www.salisbury.edu.