Tuesday, August 22, 2017
SU Celebrates Hispanic Heritage Month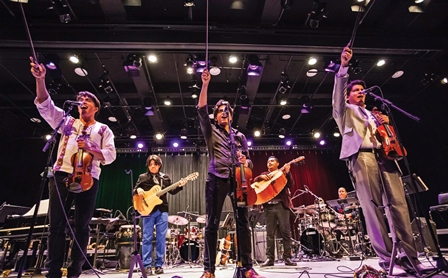 SALISBURY, MD---Salisbury University's Hispanic Heritage Month Festival celebrates Latino music, dance and traditions in September and October.

Events begin with bachata lessons as part of SU's "Dance on the Lawn" series Mondays, September 11-October 2, on Holloway Hall Lawn (rain location: Holloway Hall Great Hall). Bachata is a style of social dance from the Dominican Republic that takes its name from the guitar-like instrument prevalent in the distinctive music to which it is danced. Instructors are Margo and Wayne Faircloth. Experience and registration are not required.

A screening of the PBS documentary Mariachi High us 7 p.m. Monday, September 18, in the Great Hall. The film follows a year in the life of the champion mariachi ensemble at Zapata High School on the Rio Grande in southern Texas.

University Dining Services' annual Hispanic Heritage Dinner is 4:30-7:30 p.m. Wednesday, September 20, at the Commons. Humberto Guzman y su Mariachi Los Mensajeros Del Sur (Humberto Guzman and the Southern Messengers of Mariachi) perform from 5-7 p.m. Cost is $13.50, $8.15 for children 5 and under.

That evening, the Villalobos Brothers perform at 7 p.m. in Holloway Hall Auditorium. Hailing from Veracruz, Mexico, the group's original compositions and arrangements blend and celebrate the richness of Mexican folk music with the intricate harmonies of jazz and classical music. Their appearance is made possible, in part, by a grant from the Salisbury Wicomico Arts Council, awarded by the Maryland State Arts Council and National Endowment for the Arts.

A screening of the PBS documentary series Black in Latin America episode "Haiti and the Dominican: An Island Divided," is 7 p.m. Monday, October 2, in the Great Hall. Hosted by Harvard scholar Henry Louis Gates Jr., the film explores the culture of the two countries and how their troubled histories inform notions about racial classification. A discussion moderated by Dr. April Logan of SU's English Department follows.

Steel-string bachata player Joan Soriano continues the series with a concert 7 p.m. Thursday, October 4, also in Holloway Hall Auditorium. Know as "The Duke of the Bachata," Soriano blends Afro-Dominican traditions with influences from Africa, Europe, Latin America and the Caribbean to produce a unique sound. His performance is made possible through Southern Exposure: Performing Arts of Latin America, a program of the Mid-Atlantic Arts Foundation in partnership with the National Endowment for the Arts.

The series concludes with an exhibit and lecture by Dr. William "Memo" Nericcio, professor of English and comparative literature, and director of San Diego State University's M.A. in Liberal Arts and Sciences Program, on Thursday, October 26, in the Patricia R. Guerrieri Academic Commons Assembly Hall.

At 7 p.m. Nericcio discusses his American Library Association award-winning book Tex[t]-Mex: Seductive Hallucinations of the "Mexican in America" during the talk "Cyborg Chicanos, Virtual Latinas, Smartphone Addiction and Digital Culturas: Viral, Electric Mutations of Latinx Stereotypes in the Age of the Internet." The book explores representations of Latina and Latino identity in popular media, including film, television, advertising, comic books, toys, literature, video games and even graffiti.

An accompanying exhibit, "Mextasy: Seductive Hallucinations of Latina/o Mannequins Prowling the American Unconscious," from 4-9 p.m., expands on the ideas shared in the lecture.

Nericcio's visit is co-sponsored by the Fulton Public Humanities Program; English Department; Social Justice, Equity and Transforming Teaching at SU Faculty Learning Community; SU Art Galleries; and Lambda Theta Alpha Latin Sorority, Inc., SU Zeta Pi chapter.

Sponsored by the Cultural Affairs Office, admission to all events is free unless otherwise noted. No tickets are required.

For more information call 410-543-6030 or visit the SU website at www.salisbury.edu.