Friday, April 14, 2017
SU Hosts Annual Spring Music Festival May 6-13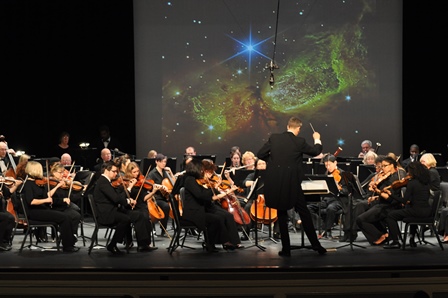 SALISBURY, MD---From classical and chamber works to jazz and sounds of the movies, music fills the air during Salisbury University's annual Spring Music Festival, "Musical Legends," May 6-13.

All performances are 7:30 p.m. in Holloway Hall Auditorium.

The Salisbury and University chorales, directed by Dr. William Folger, co-chair of the Music, Theatre and Dance Department, open the festival Saturday, May 6, with a performance of Brahms' Ein deutsches Requiem (A German Requiem) with full orchestra. The work features SU alumna and soprano Caitlyn Crowley, and baritone Thomas Beard. The concert also includes Brahms' Alto Rhapsody with alto Hope Koehler. Admission is $12; $9 for seniors 62+, students and SU alumni.

The festival continues with two free concerts. The Salisbury Pops, directed by Lee Knier, takes listeners to the movies on Tuesday, May 9, with music from Star Wars, Superman, Indiana Jones, James Bond, The Phantom of the Opera and The Incredibles. SU tenor John Wixted is featured. The audience is invited to "play" along, providing the cannon sounds during the band's rendition of Tchaikovsky's 1812 Overture.

The SU Jazz Ensemble, directed by Jerry Tabor, performs on Thursday, May 11. The concert features two combos with an emphasis on contemporary tunes and improvisation. Selections include Bill Mobley's "Wayne's World," Donald Brown's "The Insane Asylum" and "New York," Bobby Watson's "To See Her Face," Jim Snidero's "Midnight Dreams" and Donald Edwards' "Ducktones," among others.

The festival culminates with the Salisbury Symphony Orchestra concert "The Magic of the Flute" on Saturday, May 13, with returning guest performer Sarah Jackson, principal piccolo with the Los Angeles Philharmonic. The program features works by Mozart, including "Overture" from Die Zauberflöte (The Magic Flute), as well as Paul Dukas' "The Sorcerer's Apprentice" and Manuel de Falla's "Ritual Fire Dance" from El Amor Brujo.

Admission is $25, $20 for seniors age 60 and over, $5 for all students. Advance tickets are available at www.SalisburySymphonyOrchestra.org and at the Guerrieri Student Union Information Desk. For more information call 410-543-8366.

The festival is sponsored by the Music, Theatre and Dance Department. For more information call 410-548-5588 or visit the SU website at www.salisbury.edu.