Friday, April 20, 2018
SU President, Faculty Honored at Light of Literacy Awards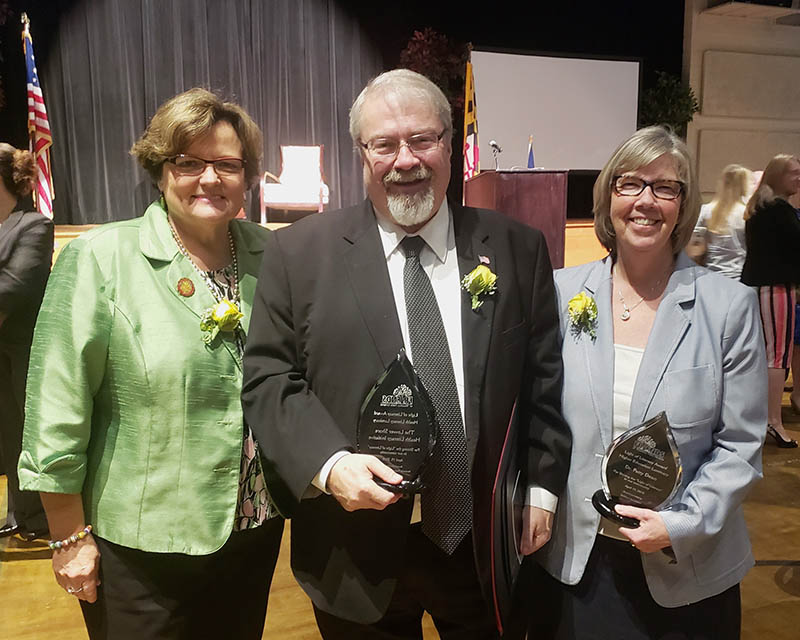 SALISBURY, MD---The Friends of Wicomico Public Libraries recently honored Salisbury University President Janet Dudley-Eshbach, Education Professor Patricia Dean, and others from campus during its 2018 Light of Literacy Awards.
Dudley-Eshbach received special recognition for her 18 years of leadership at SU and her work "promoting the power of education and literacy … and celebrating multiculturalism in our community."
"Because of her vision, SU is now in a leader across the state and the region. … [Her] influence in all areas of education will be felt for years to come," said Andrea Berstler, executive director of Wicomico Public Libraries. "Her efforts to expand the diversity of SU … demonstrates her understanding of the power of learning to change a life. As one of SU's educational partners in this community, we want her to know that we will miss her leadership … and her ability to champion education in our community."
Dudley-Eshbach thanked attendees for continuing to support the value of libraries throughout the nation. Wicomico Public Libraries will add to its children's collection a selected set of titles promoting cultural diversity and individual uniqueness, each with a special bookplate dedicated to Dudley-Eshbach.
Dean, associate professor in SU's Early and Elementary Education Department, was named the Higher Education Luminary. The award honors an individual whose actions demonstrate a passion for literacy in post-high school education or training.
Dean teaches classes in emergent literacy, children's literature and language arts for undergraduate and graduate students in SU's Samuel W. and Marilyn C. Seidel School of Education. She also organizes the University's annual Children's and Young Adult Literature Festival.
According to the nomination, getting teacher candidates to love to read children's books is high on Dean's priority list, and her office like a mini kids' library. Through her teaching, she inspires her students to use literature in creative and engaging ways with their own students. Developing a teacher's love of reading ensures they will cultivate this passion in their own classrooms.
Dr. Memo Diriker, director of SU's Business, Economic and Community Outreach Network (BEACON), was part of the Lower Shore Health Literacy Initiative team that received the Health Literacy Luminary. The initiative is a partnership of BEACON, the United Way of the Lower Eastern Shore and Peninsula Regional Medical Center.
Several campus members also were Light of Literacy nominees, including junior Eleanor Brown for the Student Luminary Award. Nominated for the Adult Luminary Award were Rachel Barnes, Political Science Department assistant, for her work with Project READ; and Richard Culver, media relations director, for his dedication to the written and spoken word, especially through theatre.
The event was hosted, in part, by Dr. Maida Finch, Seidel faculty and chair of the Libraries' Board of Trustees. Founded in 2013, the Light of Literacy Awards recognize local organizations and individuals who support literacy and education.
For more information call 410-543-6030 or visit the SU website at www.salisbury.edu.