Friday, August 4, 2017
SU Students Earn Film Internships in New York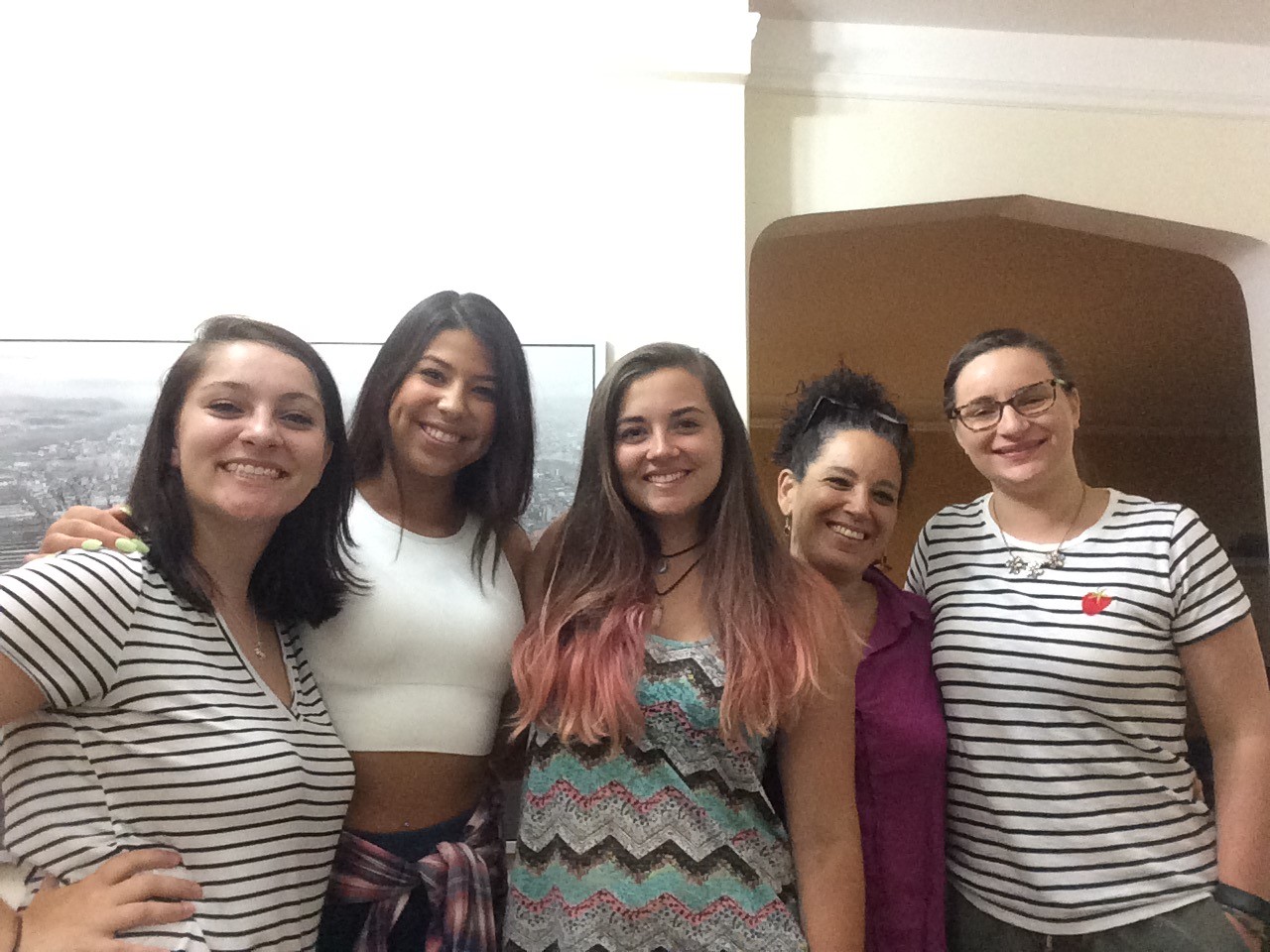 SALISBURY, MD—Laura Moriarty's novel The Chaperone is about a woman who escorts a 15-year-old girl from Wichita to New York, where the young lady begins her ascendancy in show business.

Salisbury University's Leslie Yarmo might not be an official chaperone – she's an associate professor in the Music, Theatre and Dance Department – but she is committed to mentoring and nurturing young adults on campus and off. Frequently the "off" involves guiding them from Salisbury to NYC, where, over the summer, two of Yarmo's current students, Bailey Kirk and Kimberly Brown, interned on a movie set and one of her former students, Mihret Asfera, joined them as a production assistant. And in a meta-twist, they worked on a big-screen adaptation of The Chaperone.

"It is the third year in a row my students are obtaining internships in New York films," Yarmo said. "And they are leading to real jobs in the film and TV industry."

The Chaperone, starring Elizabeth McGovern of Downton Abbey fame, was scripted by Downton creator Julian Fellowes and directed by Downton alum Michael Engler. After a theatrical run, it will air on PBS stations under the Masterpiece heading. The movie is set in the 1920s, and Kirk, a theatre major, landed a plum internship in the costume department.

"It's a very exciting opportunity to work on a period film," Yarmo said.

If only 1920s prices still applied.

"New York City is extremely expensive," said Brown, a theatre and communication arts major who interned in the production office. "I worked very hard over the semester and earlier in the summer to have enough money in my savings."

Brown, though, saved a lot of money in one important way: She has an aunt in Queens, NY, and stayed with her.

"I knew that a major roadblock to taking advantage of these internships is the cost of living here," said Yarmo, who also has a home in Queens.

The solution? Yarmo helped Asfera, who graduated from SU in 2017 with a B.A. in theatre, find a place through social-networking websites related to the film industry. Then Yarmo, who had a spare bedroom with twin beds, played host to Kirk and former SU student Phoebe Kolesar, who landed a production assistant job in the wardrobe department for the upcoming Syfy show Happy! starring Christopher Meloni of Law & Order: SVU.

Yarmo's involvement didn't end with sleeping arrangements; she shepherded them throughout the process.

"I'm having them rework their resumes for these jobs," she said. "How to communicate, what they should wear, and advising them on working and supporting one another in this experience."

And because she's a professor, of course there was homework.

"I've given them an 'assignment' to keep a binder of their paperwork, sources and contacts," she said, "and will likely advise them as the work continues."

The SU students should consider themselves lucky. Getting an internship in the film and TV industry isn't an easy task nowadays. Due to a high-profile lawsuit involving the 2010 Oscar-nominated film Black Swan and the alleged exploitation of unpaid interns, many Hollywood studios and independent production companies are eliminating internships, which means fewer foot-in-the-door opportunities for college students.

"Studios have not been willing to risk taking on student interns," Yarmo said. "But I'm figuring out how to find those few films that are willing to 'take the risk' and provide these much-needed opportunities to those starting out."

Yarmo, whose credits include being the costume designer for Law & Order: SVU and assistant costume designer for the Will Smith movie I Am Legend, is using her connections to her students' advantage. It's all about who you know in the film and TV industry, and Yarmo knew people on The Chaperone who previously worked on the 2016 independent film Carrie Pilby, for which Yarmo was the costume designer. Carrie also was staffed, thanks to Yarmo, with four SU interns, including Kolesar and Asfera, whose impressive work on that film led directly to Asfera's being hired for The Chaperone.

"Thankfully, I also happened to know the [Chaperone] costume designer from many years ago," Yarmo said of Candice Donnelly, "so she also was willing to take on [SU's Kirk] without vetting."

It was a decision the Chaperone crew didn't regret.

"Bailey has been a true lifesaver," said Abby Geoghegan, the assistant costume designer for the movie. "I was actually telling one of our costumers that Bailey has made me believe in the value of interns again after suffering a disaster intern a couple years ago."

Yarmo hears similar testimonials about SU students all the time.

"Internships cannot be handed out casually or producers will not return to offer more opportunities," Yarmo said. "But, so far, it is clear that our students are shining and we are gaining traction. I actually have more opportunities for internships this year in New York films than I have students to fill them."

As a result of the SU students' success, and the need for trained production assistants in New York, Yarmo created a new course, tentatively titled "Design and Production for Film and TV," that will debut in spring 2018 and teach skills to get hired.

Yarmo hasn't forgotten what it's like to get that first job. She had internships after she graduated from UCLA with a theatre degree, and her big break was assisting on a low-budget movie.

"It was an opportunity that simply would not have occurred if I hadn't lived in Los Angeles at the time and was therefore available to meet and jump at that opportunity," she said. "Then my first 'real' film job was through a connection at New Line Cinema." She was hired as a second-unit assistant on the bigger-budget A Nightmare on Elm Street 4: The Dream Master.

"I needed a connection to get my foot in the door of a more legit production," Yarmo said. "The contacts are as important as anything. And I know these young women will make an excellent impression. Mihret texted me, 'I am going to make you proud!' And I already am."

It's a mutual-admiration club.

"Film seems to be all about who you know," Brown said. "So the fact that I know Leslie, and that's already getting me opportunities, is so amazing it's beyond words."

For Kolesar, Yarmo has given her "amazing insight" into the film and TV industry – and much, much more.

"She is the living, breathing definition of the professor who goes above and beyond for her students," Kolesar said.

A 'chaperone' par excellence.

For more information, call 410-543-6030 or visit the SU website at www.salisbury.edu.

Pictured from left, Kimberly Brown, Phoebe Kolesar, Bailey Kirk, Prof. Leslie Yarmo and Victoria Paris gather at Yarmo's apartment in Queens, NY. All are current and former SU students involved in the film and TV industry.