Tuesday, June 13, 2017
SU Students Welcome Senior Chinese Leader to Maryland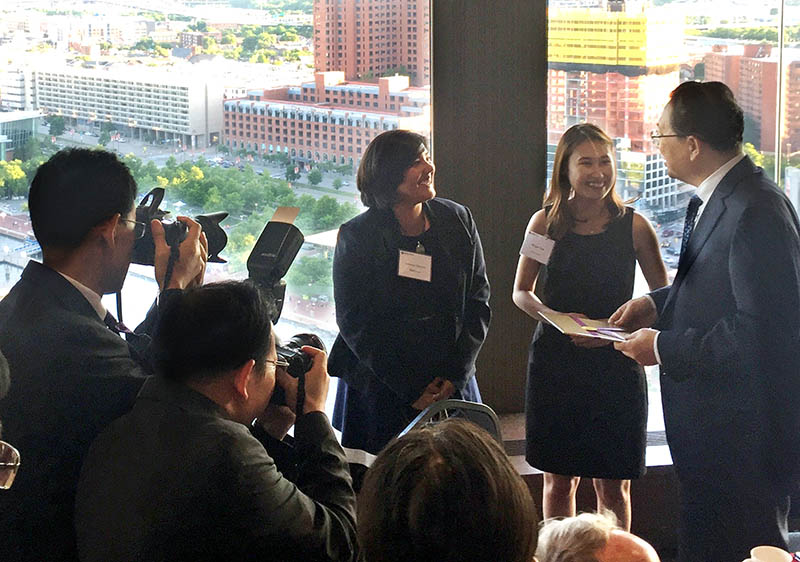 SALISBURY, MD---Salisbury University student Mingjun Xue and alumna Veronica Sesvold '17 recently helped welcome a senior Chinese leader to Maryland.

Communist Party Secretary of Anhui Province Jinbin Li was attending a dinner reception at the World Trade Center at Baltimore's Inner Harbor, following a day of meetings with Maryland leaders. Speaking in both Mandarin and English, the students shared their stories of cultural exchange.

"[We] both gained confidence in ourselves and helped to create a bridge between Anhui and Maryland through the exchange program between SU and Anqing Normal University (ANU)," they said. "We are thankful to both universities for providing us with this experience."

After their formal welcome remarks to the delegation, Li told Xue and Sesvold: "You are the bridge that will continue to unite Maryland and Anhui."

Xue, from Anqing, Anhui, was an exchange student at SU from ANU in 2013. She graduated from ANU in 2014 and returned to SU to enroll in a second degree program in accounting. Sesvold, from Gaithersburg, MD, studied at ANU in 2016. After graduating from SU in May with a degree in international relations, she has been invited back to ANU to teach English in fall 2018.

Anhui Province is Maryland's oldest State-to-State partnership, established in 1980. SU has partnered with ANU since 2009 with bilateral student and faculty exchanges.

Li is the highest ranking political authority in Anhui. His visit was planned by Maryland Secretary of State John Wobensmith and the Maryland/Anhui Sister States Committee. The highlight was Li's meeting with Governor Larry Hogan; they signed a Joint Statement on Strengthening Strategic Cooperation between Maryland and Anhui.

Some 100 state leaders in politics, business and education attended the evening dinner reception. Among them were Perdue Farms Chairman Jim Perdue, a longtime SU benefactor and friend. He also shared formal greetings with Li and the delegation, along with Wobensmith and Maryland Senate President Mike Miller. The event was co-sponsored by Perdue Farms, SU, the Maryland Department of Transportation, and nearly a dozen other Maryland-based organizations with strategic interests in Anhui Province.

"Ms. Xue and Ms. Sesvold electrified the senior Chinese delegation," said Dr. Brian Stiegler, SU's assistant provost for international education. "It was thrilling. They were very impressive in front of important Maryland and Anhui leaders."

In the past decade, SU has tripled its international student enrollments, expanded its global portfolio of partner institutions ten-fold and created a visiting global scholar program. For more information, visit SU's Center for International Education website at www.salisbury.edu/international.