Thursday, August 31, 2017
SU's Brooks Earns CRLA IMTPC Outstanding Mentor Award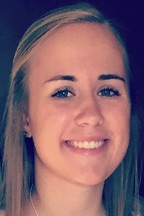 SALISBURY, MD---Salisbury University senior Cassandra Brooks recently was named the College Reading and Learning Association's (CRLA's) 2017 International Mentor Training Program Certification Outstanding Mentor.
The nursing major from Roxbury Township, NJ, is a supplemental instruction (SI) leader in general chemistry in SU's Center for Student Achievement (CSA). She also is certified as a Level I mentor with the CRLA.
"Over the course of her tenure as an SI leader, Cassie has helped over 215 students successfully navigate and complete their general chemistry requirement," said Heather Porter, CSA assistant director, who nominated Brooks for the award. "Yet her influence far extends the boundaries of this one course, as she has supported students' development of independent learning strategies that serve as a foundation for their future SU coursework."
In addition, as a veteran SI leader, Brooks has assisted in the training of other SI leaders.
"Peer mentoring is a vital aspect of SU that helps students become better leaders, thrive in the classroom and reach their maximum potential," Brooks said. "I am honored to be part of such a program that guides students on their way to their path to success."
Supplemental instructors traditionally are students who have excelled in a difficult class and serve as mentors to new students taking that class.
"I never teach students or instruct classes, but I help them find studying techniques that work for them and can be applied to other courses," Brooks said. "My approach is to guide the thought process and then allow students to be able to answer questions for themselves rather than memorizing the steps to a question. This thought process then comes back to them at the time of the quiz or exam."
For Brooks the work is mutually beneficial.
"Contrary to what many would expect, a mentor gains as much as they pass forward," she said. "Not only have I gained and strengthened vital leadership skills such as communication, positivity, time management and responsibility, but this role has also given me the chance to stay up to date with my basic and general education knowledge.
"There is no more rewarding feeling than when I continually help struggling students in classes and they come back and tell me they received an A on their exam or that a student I mentored in the previous semester has been asked to join the Supplemental Instruction Leader team as a mentor."
For more information call 410-543-6030 or visit the SU website at www.salisbury.edu.