Friday, April 14, 2017
'Scenes from the House of Special Purpose' Exhibit by Glass Artist Walter Zimmerman Apr. 20-May 20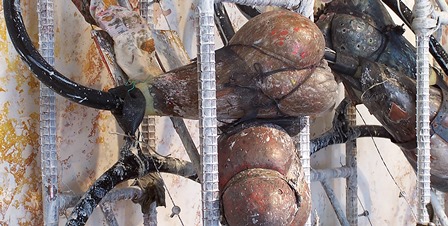 SALISBURY, MD---The New York Times has called artist Walter Zimmerman's glasswork "haunting and meticulously created," noting that it has been featured in the collection of noted glass artist Dale Chihuly.

Zimmerman, artist-in-residence with Salisbury University's Glass Program, showcases his recent works in the exhibit "Scenes from the House of Special Purpose" April 20-May 20 at the SU Art Galleries Downtown Campus. An artist talk is 4 p.m. Friday, April 21.

Inspired by Russian history, personal history and "Czar Blue" (a sale on overstocked color), "Scenes from the House of Special Purpose" presents a densely layered visual narrative that references the artist's family history, blended with the tale of the Romanovs, the Russian imperial family, in the last moments of their lives in 1918. Zimmerman created this work during his residency in SU's Hot Glass Program, which began in September. Also on display is a small installation of work created by Steven Durow, who oversees the program, and SU glass students who have worked closely with Zimmerman during the academic year.

Zimmerman's art is part of the Smithsonian Institution's Renwick Gallery collection and has been selected among the most outstanding glasswork worldwide by New Glass Review. His work has been exhibited by galleries in New York, Philadelphia and Chicago, along with others in Vermont, Missouri, Arizona and his native New Jersey. He has taught glass art at institutions including New York University and Philadelphia's University of the Arts.

The gallery is open by appointment and during special downtown events, including the Salisbury Arts & Entertainment District's 3rd Friday celebrations 5-8 p.m. April 21 and May 19.

For more information call 410-548-2547 or visit the SU Art Galleries website at www.salisbury.edu/universitygalleries.