Thursday, August 24, 2017
Nominations Open for Perdue Business Leadership Award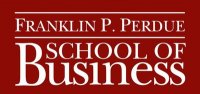 SALISBURY, MD---Salisbury University's Franklin P. Perdue School of Business is seeking nominations for its 2018 Business Leadership Award.

Established in 2009, the honor is presented annually to a person or organization that has demonstrated exceptional leadership with, advancement of, or service to the Perdue School and SU.

The Perdue School's Executive Advisory Board oversees the nomination and selection processes. Nominations are accepted through 5 p.m. Friday, October 13. The winner will be recognized at a ceremony in February.

Past winners include Wor-Wic Community College President Ray Hoy; real estate developer Jack Burbage; SmartLink president and Chesapeake Bayhawks owner Brendan Kelly; K&L Microwave, Inc. President and Eastern Shore entrepreneur Richard Bernstein; and Risk and Regulatory Consulting LLC partner Pat Tracy.

Nomination forms are available online at www.salisbury.edu/perdue/leadership-award. Completed forms may be sent to Michelle Lambert, executive administrative assistant, Dean's Office, Franklin P. Perdue School of Business, 1101 Camden Ave., Salisbury, MD 21801.

For more information call 410-543-6119 or email mllambert@salisbury.edu.