Friday, May 11, 2018
Registration Open for 30th Sea Gull Century Bike Ride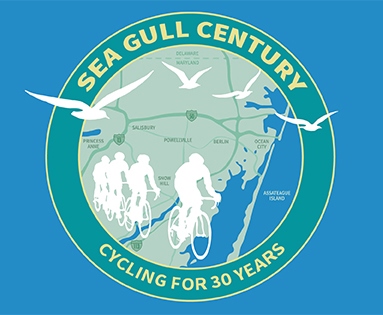 SALISBURY, MD---Salisbury University's Sea Gull Century bicycle tour celebrates 30 years this fall.

Registration for the annual event opens Tuesday, May 15. The ride is set for Saturday, October 6.

"We are excited to mark three decades of cycling!" said Amy Waters, SU's director of donor relations and special events.

The recently unveiled 2018 Sea Gull Century design, created by graphical artist Earnest Gould, features a map of lower Delmarva embossed with cyclists – and seagulls.

"It shows how the ride stretches beyond campus and truly encompasses the entire Shore," said SU graduate student Alexis Roskovich. "The Century has done so much for the University and the surrounding communities, and we are looking to celebrate that during our 30th anniversary."

Planning for the ride is well underway thanks, in part, to Roskovich and Catherine Raley. Both are graduate assistants for Waters and the SU Foundation, Inc.

The team is coordinating volunteer efforts with campus and civic groups, and registering expo vendors.

A number of local partners also are involved in preparations, Roskovich said. Chesapeake Screen Printing handles a mass order of logo shirts. Vantage Point Solutions Group provides web registration assistance. Century weekend festivities will feature local flair with beer, wine and entertainment.

A 2017 study by SU's Business, Economic and Community Outreach Network (BEACON) showed that 90 percent of Sea Gull Century participants plan to return again. Many note the flat, safe course, and a positive experience with campus volunteers and in Salisbury. The bulk of visitors' spending supports hotels, restaurants, and retail, gas and grocery stores.

"We have many repeat riders and this year they will be able to create and share personalized online graphics celebrating the number of centuries they have ridden," Roskovich said.

The Sea Gull Century is among the oldest rides of its kind on the East Coast. Thousands of cyclists are expected for the traditional 100-mile Assateague century and the 64-mile Princess Anne metric route.

Many nonprofits use the ride for fundraising, and all proceeds support programs on campus and in the community, including SU student scholarships and faculty grants.

For more information about the ride, or to register, visit the Century website at www.seagullcentury.org.