Thursday, May 3, 2018
SU Philosophy Students Discuss 'Why Does God Matter?' May 7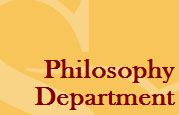 SALISBURY, MD---Students in Dr. Timothy Stock's Philosophy 402 class, "The Problem of God," share their knowledge and lead participants in interactive small-group discussions during the presentation "Why Does God Matter?" 5:30-7 p.m. Monday, May 7, in the Great Hall of Holloway Hall.
All backgrounds and viewpoints are welcome. Light refreshments are provided.
Sponsored by the Philosophy Department and Institute for Public Affairs and Civic Engagement (PACE), admission is free and the public is invited. For more information call 410-677-5045 or visit the SU website at www.salisbury.edu.