Friday, April 14, 2017
SU President Delivers State of the University Address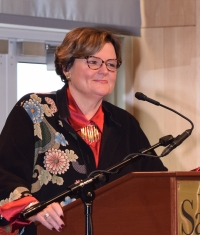 Since Dr. Janet Dudley-Eshbach became President of Salisbury University in 2000, the institution has undergone many changes. With the support of the campus community, alumni, the University System of Maryland, legislators and others, SU has grown dramatically in enrollment and selectivity, much-needed new buildings have become reality, and the Foundation also has grown as a result of private and corporate fundraising efforts.

The State of the University Address outlines many successes while underscoring the need to embrace change to ensure that the University continues to build upon its reputation, academic excellence and fiscal strength.

"The Accelerating Pace of Change: How Well Are We Responding?" was presented on April 18, 2017. The speech highlights the changing face of higher education and how SU plans to respond to maintain its reputation as A Maryland University of National Distinction.